Är du intresserad av att hjälpa till?
Vill du bli volontär?
Vi behöver volontärer i form av tandläkare, tandsköterskor och tandhygienister, så är du intresserad så hör av dig, maila till: info@afrikaadats.com skriv vem du är och ange ett telefonnummer så hör vi av oss.
Vad koster det att följe med på en volontär resa?
Du betalar din egen resa, din mat samt till vis del boende i Gambia – störste delen av kostnaderna är själva flygresan.
du betalar din egen försäkring – kolla med ditt bolag eventuelle vaccinationer och malaria prevention
Våra krav för att bli volontär måste du ha ett aktuellt medlemskap i Afrikaada TeethSavers.
Tandläkare och tandhygienister ska kunna visa upp kopia på en legitimation samt order of good standing (fås från socialstyrelsen), tandsköterskor och undersköterskor ska kunna visa upp en skriftlig rekommendation från arbetsgivare
Som alla andra ideella organisationer är vi i behov av finansiering, till största delen för inköp av engångsmaterial, bland annat: kanyler, bedövning, instrument rengöring, värktabletter, suturmaterial.
Kolla med din arbetsgivare om de kräver MRSA test och eventuell karantän vid hemkomsten
If you are interested to volunteer, just send us an email info@afrikaadats.com
We are looking forward to your email!
What can you do as a volunteer?
No matter if you are a dentist, dental hygienist, dental assistant or student, your help is needed! You can always go to the schools and give oral health information and instructions. As a hygienist you can also do manual scaling and as a dentist you can also do extractions and ART-fillings.
For invasive work license to practice dental medicine is required, and is also demanded by the Gambian government. As a student you can, except for giving oral health information and instructions also gather information to write your thesis or essay in the Gambia.
Contact us for further information info@afrikaadats.com
How much dose i cost?
Volunteering with TeethSavers Gambia is free, however we expect all volunteers to finance their own transportat and living expenses during your time in the Gambia.
How long time before going do I need to decide?
At least one month before departure, but if possible earlier so we have time to do all the arrangements.
What do I need to think about before I go?
Visas are not needed by nationals of Commonwealth countries, Belgium, Germany, Italy, Luxembourg, the Netherlands, the Economic Community of West African States (Ecowas) or Scandinavian countries. The visa does not need to be applied for in beforehand. A stamp of 28 days is usually given at the border, and visa extensions can easily be done at the Immigration Office and cost 500D (2011)
Before you go it is important to check your vaccinations. For The Gambia it is recommended to get Hep A, Hep B, tuberculosis. Also, you might need to boost your old poliomyelitis, diphteria and tetanus shots. Malaria propfylaxis might be required, especially during the rainy season. Also, if you want to cross the border between The Gambia and Senegal, you might need a yellow fever. vaccine Consult your infections clinic or doctor regarding which vaccinations and prophylaxis you need.
What will happen after I decide to volunteer?
Before you go we will do the arrangements according to the kind of volunteering you are interested in and you will receive information about what you will do during your trip. You will also meet with one of the board members of Teethsavers or previous volunteers, either in person or on Skype, to get an introduction to your volunteering period in good time before departure.
Previous Volunteers

Marlene Høffer, Denmark, 36 years, dental hygienist
I was in the Gambia from January 2009 to May 2009 and worked at Swedent Clinic. I also taught for Afrikaada Teethsavers about the basics of teeth, caries, periodontology and hygiene, which was real fun and it felt like I made a difference. I went to the schools a couple of times which was a big and instructive experience.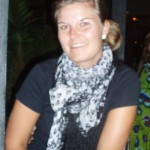 Rebecca Rutzell, Sweden, dentist
I graduated from Umeå Universiry in 2006 and has since then worked in Folktandvården in Visby. I spent the spring in 2009 in the Gambia., partly working for Swedent clinic mostly with adult patient and partly with Afrikaada Teethsavers with pediatric dentistry. I visited some schools and consider it being one of my best tasks in my working life so far – I absolutely want to go back!
I conducted a study with Maria Carlsson and Dr Jette Lehrmann Madsen during summer in 2006. We recorded the genereal oral health status and treatment need in the Gambia, the age group 35-44 years.
email: blom_cilla@hotmail.com
I made a study with Cecilia Blom and Dr Jette Lehrmann Madsen during summer in 2006. We recorded the genereal oral health status and treatment need in the Gambia, the age group 35-44 years.
email:

Golsara Mehryar, Sweden, dentist, Karolinska Institutet 2007
I am a positive person who loves people. Whatever cash I manage to save up I spend on travelling all over the world. My family is living in Sweden, but my origins are Iranian. Other interests include scuba diving, music, dancing and enjoying.
Sara Kjellström, tandsköterska, Sverige, 2016
Jag fick förverkliga min barndomsdröm att någon gång komma till Afrika; att stiga ur flygplanet och faktiskt vara där var obeskrivligt häftigt!
Människorna jag jobbade, reste och bodde tillsammans med, som var oerhört inspirerande, imponerande människor. Alla intressanta och roliga samtal på kvällarna minns jag med stor värme.
Kontrasten från mitt arbete till vardags, hur mycket man faktiskt kan göra utan all utrustning och bekvämligheter som vi har här hemma.
Barnen! De fina, modiga barnen som tålmodigt gick igenom bedövningssprutor, tandutdragningar, lagningar… utan protester, trots att kommunikationen minst sagt var knepig…
Och till sist – en önskan om att någon gång komma tillbaka! <3